Extremely Limited Edition Class of Heroes 2G Presale On Now
Remember that poll we took awhile back asking for your support to create an extremely limited run of physical Class of Heroes 2G discs? Yes? Good! The reason being is that while we didn't hit our initial target, we were able to get enough signatures to make the production of physical discs possible and affordable!
If you want to know what comes in the package, here is a rundown:
Full color game manual
Blu-ray game with full color label
Reversible cover insert (both sides are full color)
A special hologram with serial number
We can't stress enough how limited these copies will be. Once we're done taking presales, that's it. No more copies will ever be reprinted. This will make Class of Heroes 2G one of the rarest disc based releases on the PS3. The cost of the game will be $49.99 for the game and an additional $4 for shipping/handling. Edit: We've had some questions about international shipping to places like the UK, Canada and other locations. We will ship to those places but the shipping will cost more. We will update again when we have what that cost will be.
If you want more details about Class of Heroes 2G, you can find the information on our Game Page or on the GAIJINWORKS Website.
If you are already attempting to throw dollars at the screen, here is a handy button that will take you directly to the presale page for Class for Heroes 2G: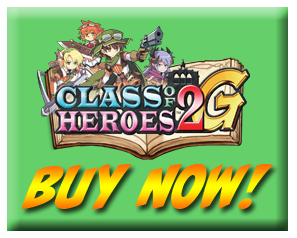 We can't thank you fans enough for all your support. It's awesome to be able to bring these limited editions out and it's even more fun when there is such a passionate fanbase.